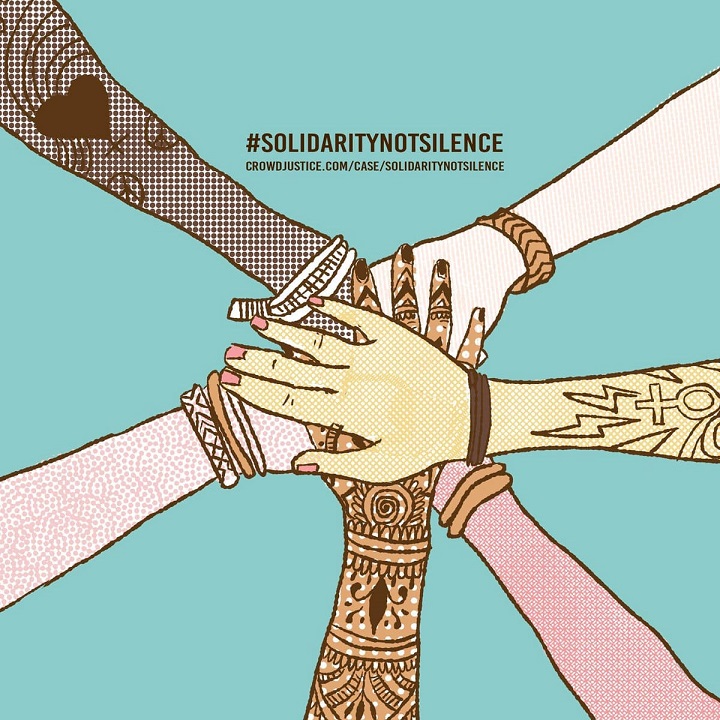 Unter dem Namen Solidarity Not Silence machen sich Frauen, darunter auch Mitgliederinnen der Petrol Girls die sich in einem anhaltenden Rechtsstreit mit einem Mann aus der Musikindustrie befinden, dem die Diffamierung der Klägerinnen vorgeworfen wird, nachdem diese Aussagen über sein Verhalten gegenüber Frauen tätigten, stark und sammeln gemeinsam Spenden. Ohne Solidarity Not Silence wäre es besagter Gruppe nicht möglich die Kosten für ihre Anwälte zu stemmen.
Jetzt erschien der Song "This Is Sisterhood" und hierfür holten die Künstlerinnen sich The Tuts von den Petrol Girls, Kathleen Hanna von Color Me Wednesday und eine Vielzahl feministischer Künstlerinnen und Chöre ins Boot. Für das Video zeigte sich die Künstlerin Gingerdope verantwortlich. Erschienen ist "This Is Sisterhood" via Alcopop Records.
Die Single könnt Ihr via Bandcamp kaufen. Spenden könnt Ihr hier. Unter #solidaritynotsilence findet Ihr weitere Infos.
"This song release is not only to raise funds and awareness for our case and survivors but it's for the wider issues at hand. It's for anyone who wasn't believed, who spoke up and got shut down, for the fuckery caused by the CPS, for that person who is too scared to speak up, who has to live with the haunting trauma. We hope that this song is somewhere you can feel safe, believed and less alone. We hope the message reaches you and the people who need to hear it and helps them as much as it's helped us. We've been fighting this for over 4 years and it's taught us resilience but also how hard it is to get JUSTICE. We have so much admiration for survivors."
Video: Solidarity Not Silence – This Is Sisterhood
News
Wir versorgen Euch mit Neuigkeiten aus dem Bereich Punkrock, Hardcore und Metal. Bei Fragen, Anmerkungen oder für virtuelles Glitzerkonfetti meldet Euch gerne unter hi@cybmag.de.